Protect Your Home, Protect Yourself
Homeowners' insurance helps you make your house a home. Knowing you're protected under disastrous circumstances provides a sigh of relief – but it's always important to know what's covered, what's not covered, and where to find information about your homeowners' insurance policy because you and your home are unique.
Types of Coverage
Normally, a homeowners' insurance policy provides a combination of property and liability coverages, including the following:
Coverage A: Structure (the dwelling itself)
Coverage B: Other structures (like sheds and fences)
Coverage C: Personal property (the contents of the structures)
Coverage D: Loss of use (also called Additional Living Expense or ALE)
Coverage L: Personal Liability
Coverage M: Medical Payments to Others
Property coverage covers damage to your home and the contents within it, including the personal belongings of anyone that lives in the home.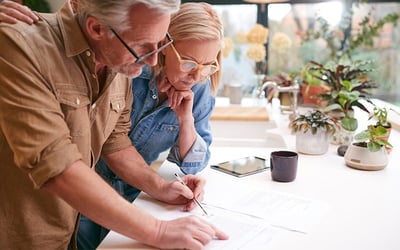 Choosing Your Coverage
There are eight types of homeowners' insurance policies. Broad Form HO-2, Special Form HO-3, and Modified Coverage Form HO-8 are the most common insurance packages for owner-occupied, single-family homeowners.
Choosing an insurance policy is highly individual depending on your living situation.
HO-1 homeowners' insurance is the most basic one. It does not cover anything that is not included in its ten listed perils: Fire or lightning, Windstorm or hail, Explosion, Riot or civil commotion, Aircraft, Vehicles, Smoke, Vandalism and mischief, Theft and Volcanic eruptions. Anything outside of these perils is not covered with this plan, so a lot of insurance agencies don't offer this.
HO-2 protects you from the same perils as HO-1 with the addition of a few. The amount of additional perils this plan protects you against depends on the insurance provider.
Special Form HO-3 is one of the most popular and most comprehensive homeowners' forms. To give some insight into what this plan covers, it's important to look at what it does not cover.
HO-3 usually does not cover floods, windstorms and sinkholes, as well as luxury items within the house.
HO-4 is renters' insurance, so if you're renting a condo, apartment or house, this is the coverage for you.
HO-5 offers the highest level of coverage for single-family homes. An HO-5 plan covers more than the HO-3 plan and covers both your belongings and your home at their true replacement value.
HO-6 is insurance for those who own a co-op or condominium.
HO-7 offers the same coverage as HO-3, but it is for mobile homes.
Lastly, HO-8 provides coverage for homes that otherwise don't meet the insurer's standards for other types of coverage. For example, a home that is in bad shape, old and/or might require a higher cost to fix.
Can't Find Coverage?
If you can't locate coverage, you're not alone. Two options for people that are struggling to find homeowners' insurance are the Florida Market Assistance Plan (FMAP) and Citizens Property Insurance Corporation.
Your Policy's Coverage
To find the coverage for your specific policy coverage, carefully review your coverage regularly, and/or meet with your insurance agent to ensure you have the coverage you need. It's important to tailor your coverage to your exact needs. If a specific peril isn't covered by your policy, look into paying a premium for extra coverage, or signing up for an insurance plan specific to the peril: for example, flood insurance is a separate plan from homeowners' insurance.
Need Help?
Murray and Murray are happy to step up and help you find the homeowners' insurance coverage you need. We understand that your policy needs to be tailored to you, and we are here to walk you through the daunting, and important, task.