As of 11 a.m. this morning, the National Hurricane Center projects that Florida remains in the path of Hurricane Irma— which is currently a dangerous category 5 storm with sustained winds of 185mph. Florida residents should prepare their homes for the storm, gather food and supplies, and prepare an evacuation plan. It's also important to take pictures of your home, contents, and other property to memorialize their condition and to locate your insurance policy.
While safety preparations and other precautions in advance of the storm are imperative, it is also important to familiarize yourself with the steps to take after the storm in the event your home or property sustain damage.
Once the Storm has Passed
Once the storm has passed and conditions are safe, immediately inspect the interior and exterior of your property. If you see any damage (or have reason to believe the storm caused damage to areas such as the roof that you cannot access safely), call your insurance company and file a claim as soon as the damage is discovered or suspected.
It may take several days for your insurance company to send an adjuster to your property due to the size of the storm, storm damage and the number of claims. For this reason, it is very important to document the damage yourself by taking pictures or videos and saving them on your phone (and to a cloud backup if possible). Be sure to also take an inventory of all damaged property. Documenting your own damages is especially important as the insurance adjusters may not be properly trained or may be overwhelmed with claims and may fail to thoroughly document your damages during their inspections.
Making Temporary Repairs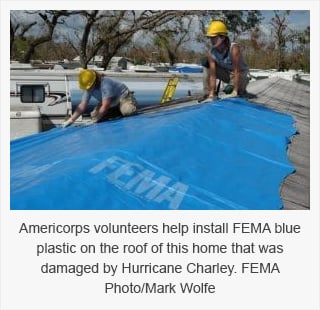 Next, be sure to make all temporary repairs needed to protect your property from further damage—this may include things like tarping the roof, putting plywood over broken windows and attempting to dry interior water damage. Many homeowners think they have to wait until the insurance company adjusts the claim and admits coverage before they can move forward with such mitigation/ temporary repairs. But the opposite is actually true. Your insurance company can (and will if given the opportunity) deny any portion of your claim caused by your failure to protect the property from further damage. Again, take pictures to document the mitigation efforts and temporary repairs made to your property and save any receipts and/or invoices incurred.
Use Caution when entering an agreement with a Contractor
Also, be cautious when entering into any kind of repair agreement with a roofer or contractor. Unfortunately, many dishonest repair services pop up after storms, require pre-payment, and take off before making sufficient (or any) repairs. Likewise, be cautious of any vendors who seek an "assignment of benefits." Signing such a document may cause you to "assign" your insurance claim to the repair company, and could leave you with no recourse if your insurance company underpays or denies your claim. Always read a contract carefully before signing it, and seek legal advice if you do not understand it or have any questions. Never simply accept an explanation of the contract from the person asking you to sign it.
Finally, make sure to comply with any policy duties and requests made by your insurance company. This includes requests to inspect the property, requests to provide documents, requests to provide a recorded statement, requests to provide a proof of loss, and/or requests to provide an examination under oath. A failure to comply with these common policy conditions could result in a denial of coverage.
At Murray + Murray, our proven Florida property insurance law attorneys are well-acquainted with the challenges insurers face in the aftermath of a severe weather event like Hurricane Matthew. We have assisted Florida Insureds with their hurricane claims since 1992. Our firm has recovered hundreds of millions in coverage for clients and businesses throughout Florida and is ready to assess your post-hurricane claim today. No claim is too small or too big.
We can help you get the insurance coverage you are owed, that you paid for, and that you deserve. Use our online form to request a free case evaluation.