Tornados are unexpected weather events that can cause catastrophic damage. Most residential insurance policies provide insurance coverage for tornado damages. In the past decade, tornadoes have caused $2.5 million in property damage per storm, for a total of more than $14.1 billion, along with nearly 1,000 deaths.
Floridians Are at Risk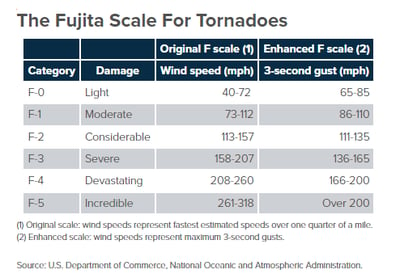 Tornadoes are prevalent in Florida, especially in the spring and summer months. A recent article in the Tampa Bay Times detailed that Florida has an average of 66 tornadoes per year and is ranked No. 3 among all states for tornado frequency. On January 16, 2022, a tornado in Fort Myers caused catastrophic damages and destroyed at least 30 homes and left more than 60 other homes severely damaged.
What to Do If You're Caught In a Tornado
The paramount concern during tornadoes is the safety and wellbeing of your family. As most Floridians don't have basements, the best place to take shelter is in an interior room without windows. Once the storm is over and it is safe to leave your shelter, you should assess your property damages. Contact your insurance company to report a claim if your home or commercial property suffers tornado damage.
How to File a Claim
Always report the loss and damage to your insurance company as soon as possible. Most insurance policies require notice to be given "promptly" or "timely." Providing notice even a few weeks or months after the loss can give the insurance company an opportunity to try to deny coverage based on late reporting.
Take photographs and videos of your damages immediately. Do this before any of the conditions at your property change or your move any debris. Insurance adjusters handle multiple claims at a time and may rush their inspections and may not note all of your damages. This could result in insufficient estimates and payments. Having your own damage documentation will prove very useful if there are disputes as to the cause, extent, and/or valuation of your damages.
Mitigate your damages and protect your property after taking photos or videos of your damages. For example, board up a broken window to prevent water intrusion. Tarp your roof if it has been damaged or is leaking. Always save any receipts for expenses incurred for making temporary repairs and provide them to your insurer for reimbursement.
Create an inventory of damaged contents/personal property. It is helpful to photograph the damaged items as well and store them until the insurance adjuster can inspect them. Do not dispose of any items without notifying your insurance company first.
Cooperate with the insurance company's investigation. This includes allowing the insurance adjuster to inspect the property and take pictures. If the adjuster requests documents, make sure you keep a copy of what you providing and make sure there is a paper trail.
Complete all necessary forms required by your policy. Many policies require insureds to submit a Sworn Proof of Loss within 60 or 90 days of the loss (or after being asked to provide one by the insurance company). Failure to comply with this duty could negatively affect coverage.
Inform the insurance company if you have to temporarily relocate because your home is inhabitable. Most policies provide coverage for "Loss of Use" or "Additional Living Expenses." Covered expenses can include hotels, rental costs, meals, gas for longer commutes, and even pet-boarding. This coverage is traditionally an incurred coverage — which means that you have to pay for the expense first and then seek reimbursement from your insurance company. It is very important to save all receipts and timely submit them to your insurer.
If your company has requested you to provide a recorded statement or an examination under oath you should speak with an attorney or claims professional as soon as possible. Your insurance company can ask you all of the questions it needs to adjust your claim without recording the statements and having an attorney ask you questions.
Is Your Claim Delayed, Denied, or Underpaid?
Florida Statute §627.70131 requires insurance companies to admit or deny coverage within 90 days of the claim reporting. If your insurance company is delaying your tornado claim, you should contact an experienced insurance claim attorney for assistance. Likewise, if the insurance company has undervalued your damages, underpaid your damages, or is otherwise treating you unfairly, contact one of the insurance claim attorneys at Murray + Murray. Consultations are always free.
Our attorneys have decades of experience representing insureds and holding insurance companies accountable. You purchased insurance to protect you in the event of a loss, and we will ensure you obtain the coverage to which you are entitled under your policy.